About Us
PADMAVATI CHEMTECH PRIVATE LIMITED is overcoming potential market obstacles as an unchallenged manufacturing business. We are providing Silver Plating Salts, Cleaning and Polishing Chemicals, Silver Platings and various products made in accordance with industry defined quality standards and regulations. Our entity being a manufacturer has been consistent in matching with expectations of the potential market. We posses manpower that implements quality-driven approach to bring forth Silver Platings, Cleaning and Polishing Chemicals and several more products keeping top mark of quality.
We have chosen industry-experienced quality analysts for our internal testing program so as to deliver the best in the potential market arenas. The said analysts inspect Vibratory Polishing Shampoo, Bright Silver Salt, Silver Plating Brightener For Utensils, Silver Brightener, Nickel Sulphate Hexahydrate, etc., on industry defined valid parameters. The close inspection of our huge range is conducted incorporating technologically improved testing instruments and equipment. We have positioned our business among the highly respected ones in the domain by successfully achieving industry targets.

Infrastructure
Here at our company, appropriate utilization of infrastructure is helping in bringing easiness to business programs. We have been owning advanced divisions in the infrastructure since the formative years which enable in well handling everyday tasks without inconvenience. We do modifications in our advanced divisions as per industry innovations with an objective to attain our set targets in shortest duration.
Our business has a warehousing section developed to accommodate huge storage needs. This section has every innovative storage equipment and device worthy for successful results in storage. We store our finished product range so as to meet sudden needs of the potential market at promised time. Below given are some of our departments:
Manufacturing
Quality Testing
Warehousing
Research & Development
Product Sourcing
Packaging
Why Us?
Our business brings forward products that are produced in sync with the industry laid quality norms and regulations.
We get 100% success in safe shipment with careful implementation of well-tested packaging materials.
Our enterprise stores Silver Plating Brightener For Utensils, Vibratory Polishing Shampoo and other provided products in abundance for completing potential market requirements.
We arrange regular meetings for our personnel to enhance understanding about prevalent market trends.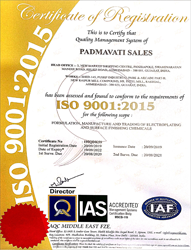 Read More